SYSPER Post Activity
This application allows you to consult pension slips, generate tax certificates, modify/add/complete your personal and family details, enter a life declaration, etc.
This SYSPER Post Activity application offers several modules "Pension statements", "Life Declarations", "Declarations related your family situation (e.g. child birth/adoption, marriage, divorce, school fees, etc.)", "Tax Certificates" and "Personal Data (e.g. address, telephone number etc.)"
☛ It is important to note that all pensioners will continue to receive pension statements, life declarations and fiscal certificates on paper as long as they have not chosen to receive them electronically only. This choice is made via the SYSPER Post Activity application.  More details can be found in the SYSPER Post Activity Guide hereafter.
☛ The tabs "Life Declarations", "Family Declarations" and "Tax Certificates" will not appear in SYSPER Post Activity for pensioners of the European Parliament, the Court of Justice of the EU and the European Economic and Social Committee, as they are not concerned. They have to refer to their institution of origin.
You can access SYSPER Post Activity via My Remote (see further down), which requires an EU Login account. If you do not yet have an EU Login account but want to create one, you will find the EU Login access guide on our website
In case of problems, AIACE Helpdesks can help you.
Consult the SYSPER Post Activity guide which will guide you step by step to the application and its features.
If you wish to communicate effectively and securely with PMO, it is recommended to use Staff Contact. Here is how to go about it.
The 5 modules currently available
Pension statements
SYSPER Post Activity allows you to view and print your pension slips as of 2017  (previous years will not be available online).
A notification is sent to the pensioner's e-mail address as soon as his/her pension statement is available. It is sent from the following functional mailbox:
EU-CORPORATE-NOTIFICATION-SYSTEM@ec.europa.eu
The following modules are not available for pensioners of EP, ECJ and EESC; they should contact their original institution.
Life declarations (except for EP, ECJ and EESC)
When it is necessary to make a new life declaration, SYSPER Post Activity sends a notification to the e-mail address of the pensioner concerned and a new tab "Life Declarations" will appear in your SYSPER Post Activity.
You will then have to return a single version of the two-yearly declaration, either on paper or electronically (not both !!).
An explanatory video from PMO.2 showing how to proceed is available further down the page. .
Tax certificates (except for EP, ECJ and EESC)
This module allows you to download and print the same version of the tax certificate as the one received on paper.
You will also be able to generate other tax certificates, in the language of your choice, with or without amounts. You will receive an e-mail notification once your certificates are available in your SYSPER Post Activity.
Declarations related to your family situation (except for EP, ECJ and EESC)
Here you can declare a child birth/adoption, a schooling, a marriage, a divorce, your spouse's professional activity,
Personal data (except for EP, ECJ and EESC)
Here you can verify your identity, check/modify your address, telecom details or your contact person's details.
Assistance in case of problems
Explanatory video
Click anywhere on the thumbnail to enlarge the screenshot.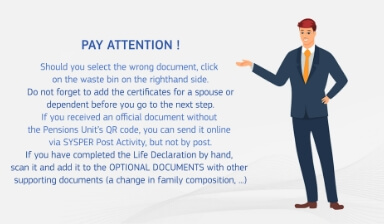 Life declaration
How to connect to SYSPER Post Activity ?
"My Remote" is a single access point with a menu to access the various Commission applications (JSIS online, My IntraComm, SYSPER Post Activity, Staff Matter + Staff Contact and EU Login). All these options are accessible with a single EU Login authentication, except JSIS online which requires a second one for security reasons.
AIACE Membership
Need additional help?
A question about my rights with the Commission?
A question about the tools of the Commission?
A question about the services offered by AIACE?
Contact our Secretariat
Would you like to become a member ?
Click on the "Register" button below
Get personalized support with long-term follow-up
Take part in discussions about the future of the association
Take part in our events
Subscribe to our insurance
Register